You Are Invited to
The Reception and Dinner
with Consuls from the Chinese Consulate General in Chicago
and Xi Jinping Old Friend Luca Berrone
Proudly Hosted by the Chinese Association of Iowa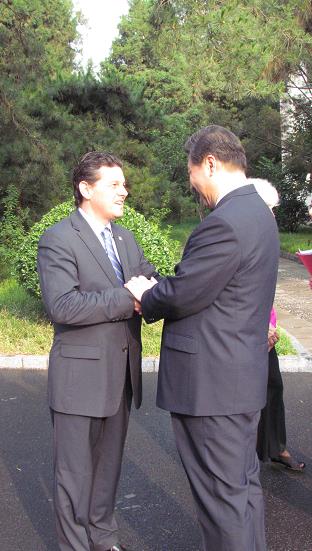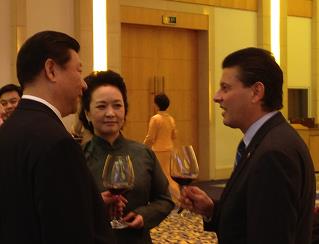 Chinese then-Vice President and now-President Xi Jinping and his wife Madame Peng Liyuan met with Luca Berrone in Beijing, China, June 3, 2012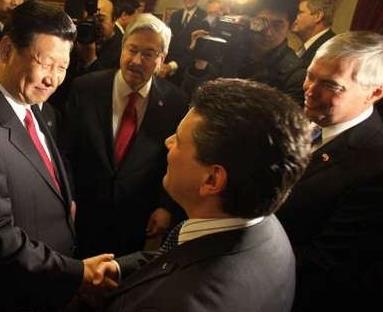 Chinese then-Vice President and now-President Xi Jinping met with Luca Berrone in Des Moines, Iowa, February 15, 2012
Location
Mandarin Grill & Sushi Bar
1250 NW 128th St, Clive, Iowa 50325. Phone: 515-327-5988
Date/Time
Saturday 5:00-8:00pm, Feb. 22nd, 2014
5:00-6:00pm
Reception
6:00-6:30pm
Award Ceremony for Luca Berrone, the Person of the Year
6:30-7:30pm
Dinner
7:30-8:00pm
Social Hour
Cost
$30 for members of Chinese Association of Iowa
$50 for non-members of Chinese Association of Iowa
Membership is open to public
RSVP
Swallow Yan, Executive Director of the Chinese Association of Iowa,
515-988-0901, IowaChinese@yahoo.com
Sponsorship Opportunity
Sponsorship opportunity for this event is available, contact Swallow Yan for details.
About Luca Berrone
Luca Berrone's Award-winning:
The Chinese Association of Iowa's Achievement Award Selection Committee selected the honorees for the 2013 Iowa Chinese Achievement Awards. Luca Berrone,
and Sarah Lande were selected as the Persons of the Year, for their 30-year excellent contributions for Iowa-China friendship and the President Xi Jinping's twice Iowa visits in 1985 and 2012.
Persons of the Year are dedicated to celebrating individuals for their distinguished involvement and contribution in the Iowa Chinese community.
Luca Berrone's Talk:
I want to thank Swallow Yan, the Chinese Association of Iowa and all my Chinese friends for this great honor recognizing me together with Sarah Lande as Persons of the Year.
I am so impressed with the achievements that CAI has been able to accomplish in such a short time and the relevance that it has achieved in our Iowa community and beyond.
I am proud of my involvement in establishing and working toward strengthening the friendship and relationship with the PRC but most of all I really treasure the lifelong friendships that have resulted from this involvement.
I started my involvement with the PRC in 1983 as the first coordinator of the Iowa Sister State Usanization and as such established the original agreement with Hebei Province in July of 1983 and subsequently coordinated and hosted several delegations from Hebei including the now famous 1985 Delegation that was led by President Xi Jinping.
I had the honor of usanizing and driving the Delegation throughout Iowa for almost two weeks and to this day I have vivid and indelible memories of the time we spent together traveling around the State, exchanging life stories and learning about each others' cultures and to this day I have kept the original business cards that they had in 1985.
President Xi was kind enough to remember me during his official visit back to Iowa in 2012 and even make me a part of Delegations that were his guest to travel in unfusettable fashion in China and Hebei in particular over the last couple of years.
Most recently I had the the distinguished honor to be appointed by Gov. Branstad to Chair together with Sarah, the 30th Anniversary Committee to celebrate the the 3 decades of friendship and cooperation between Iowa and Hebei. I will endeavor to continue to grow this relationship and I am thrilled to be a part of this success story.
Thank you again for bestowing such marvelous recognition upon me, I am humbled that you would so choose me and I am proud to be a part of this international community.
Thank you!
Luca Berrone
President
SACMI USA LTD
3434 106th Circle
Des Moines, Iowa 50322
Tel. 515.276-2052
Cell 515.240-7456
Email: luca@sacmiusa.com
Luca Berrone's Bio
• Born and raised in Torino, Italy.
• Attended Hoover High School in Des Moines for one year as an exchange student and graduated in 1975.
• Attended Iowa State University and graduated in 1980 with a Bachelor's Degree in Horticulture and International Business.
• 1980-Director of Marketing and Export Sales Manager, ILIS Corp.
• 1983- Manager Reverse Investment and Special Projects- Iowa Development Commission. Assisted in forming and served as first coordinator of the Iowa Sister State Committee.
• 1985- Manager of Manufacturing and Sales, The Tileworks.
• 1988- General Manager, Ceramic Machinery Systems.
• 1994- President, SACMI USA Ltd, Des Moines. Subsidiary of an Italian manufacturing company of machines in the ceramic, plastics, packaging and food processing industries with eight locations in the U.S. and Canada.
• Member of several professional associations in the Ceramic, Food Processing and Plastic industries.
• Married to wife Margaret (formerly of Muscatine, IA) who has also been active in the Sister State Usanization. Two College age children, Tyler and Daniela.
• Interested in promoting international culture, trade, understanding, cuisine and friendship.