518 Fair Wants You!

The China Langfang International Economic and Trade Fair - "518 Fair"
Hebei, China | May 18-21, 2018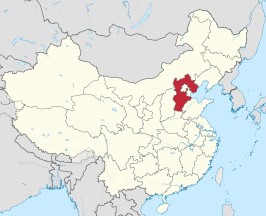 Hebei in China
The China (Langfang) International Economic and Trade Fair, also known as the "518 Fair" will be held in Langfang, Hebei, on May 18-21, 2018.
The 518 Fair is supported by the State Council of The People's Republic of China, and co-sponsored by the Ministry of Commerce and The People's Government of Hebei Province. This year, the 518 Fair will focus on new business opportunities in key strategic areas around Beijing.
The fair aims to improve cooperation between key central enterprises such as well-known overseas enterprises, large private enterprises, and scientific research institutes. The event is to also strengthen the network of its participants by creating numerous networking opportunities between parties of mutually interested projects, related industrial chains, and between manufacturers and marketing channels.
The 518 Fair is becoming a recognized platform for international investment and trade promotion focused on the Bohai Rim region which includes Beijing, Tianjin and Hebei.
There will be numerous opportunities to interact and meet with leaders of state ministries and commissions as well as with leaders of regional provinces. A series of high-level meetings, seminars, and networking events will be held during the fair to provide participants from China and international business community a platform for investment and trade cooperation.
Join us in China on May 18-21, 2018 to meet with the leading industrial firms in Hebei Province and China. This landmark fair offers insight into how to do business in China, direct leads with Chinese business leaders and significant marketing exposure. We are offering a subsidized package that coordinates and delivers every aspect of your China market entry including translation of materials, on-stand support, exhibition space and 1-to-1 meetings. All your domestic travel and accommodations are included in the trip.
To attend the event, please complete the attached RSVP registration and send to:
Swallow X. Yan
Phone: 515-988-0901 | Email: swallowxyan@yahoo.com
Economy of Hebei Province
In 2014, Hebei's GDP was 2.942 trillion Chinese yuan (US$479 billion), ranked 6th in China. GDP per capita reached 40,124 Chinese yuan. As of 2011, the primary, secondary, and tertiary sectors of industry contributed 203.46 billion, 877.74 billion, and 537.66 billion yuan respectively. The registered urban unemployment rate was 3.96%.
40% of Hebei's labor force works in the agriculture, forestry and animal husbandry sectors, with the majority of production from these industries going to neighboring Beijing and Tianjin. Hebei's main agricultural products are cereal crops including wheat, maize, millet, and sorghum. Cash crops like cotton, peanut, soybeans and sesame are also produced.
Hebei's industries include textiles, coal, steel, iron, engineering, chemical production, petroleum, power, ceramics and food.
Kailuan, with a history of over 100 years, is one of China's first modern coal mines, and remains a major mine with an annual production of over 20 million metric tons. Former US President Herbert Hoover's office from when he worked in China (1899-1902) is on display at the Kailuan Museum in Tangshan, Hebei province. The museum has restored Hoover's office from his days when he worked as the general manager of the Kaiping Mines. Porcelain from the Qing Dynasty collected by the former US president, along with 150 original photos depicting the history of the coal mine and other materials are available for public viewing.
Much of the North China Oilfield is found in Hebei, and there are also major iron mines at Handan and Qian'an. Iron, as well as steel manufacturing are the largest industries in Hebei, and are likely to remain so as these industries consolidate and Hebei continues to grow as a manufacturing and transportation center for the region.
Iowa-China Business Council – Iowa Organizer of the 518 Fair
An influential businessman and community leader in Chinese communities within Iowa, Swallow X. Yan is passionate about connecting individuals and organizations for business development. Through the Iowa-China Business Council, Swallow aims to expand the business relationships already established between China and the Iowa and ensure that future relationships flourish.
Since 2003, Iowa-China Business Council has hosted quarterly Iowa-China Business Forum for the professional community interested in developing China trade. This forum program focuses on different industry themes from agriculture to technology and property. With speakers sourced from both the Chinese and Iowa professional communities, this has become a rich source of current knowledge of Chinese attitudes to international investment.
Chinese Consul General Hong Lei key-note spoke at the Chinese Association of Iowa's 30th Anniversary Celebrations at State of Iowa Capitol, Des Moines, Iowa on Sept. 30, 2017. The Iowa-China Business Forum held during the celebrations have featured Iowa international business leaders discussing and sharing their opportunities and challenges in the their business world.
The 15th anniversary of the Iowa-China Business Council and Iowa-China Business Forum was celebrated at Embassy Club, Des Moines, Iowa, on Dec, 22, 2017, with U.S. Ambassador to China Terry Branstad, Iowa Governor Kim Reynolds, Kentucky Governor Matt Bevin, and former U.S. Ambassador to Cambodia and World Food Prize President Ken Quinn.